Whether you're just getting into the sport or you've been a squash fanatic for years, you'll know that having the right footwear can make a huge difference to your performance on the court.
If you're in the market for a new pair of squash shoes and you're feeling a little overwhelmed by the amount of choice out there, then you've come to the right place! In this post, we'll look at some of the best shoes for playing squash on the market today, and help you choose the perfect pair for your unique needs.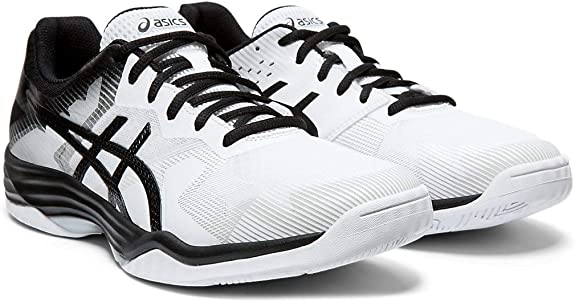 Asics Gel Tactic 2s offer a little bit of everything, making them a great choice for anyone who's new to the sport and isn't sure about the kind of nuances they're looking for in a shoe. Offering decent levels of comfort, support, and durability, these shoes have a little bit of everything for players of all experience levels!
These are *technically* considered volleyball shoes, but that's just because Asics doesn't make a different shoe for squash vs volleyball. That said, the construction is the exact same. Even other brands that separately market squash shoes from their volleyball shoes tend to be the same construction as well.
With plenty of cushioning and arch support, these shoes are alternately rigid and flexible in all the right places. Like many Asics shoes, they also feature exceptionally durable rubber on the outsoles, making them perfect for players who have a habit of dragging their toes on the court.
Stabil has been a slightly controversial name among keen athletes, especially those who used the Adidas Stabil X. Having said that, we've heard nothing but good things about the Next Gen!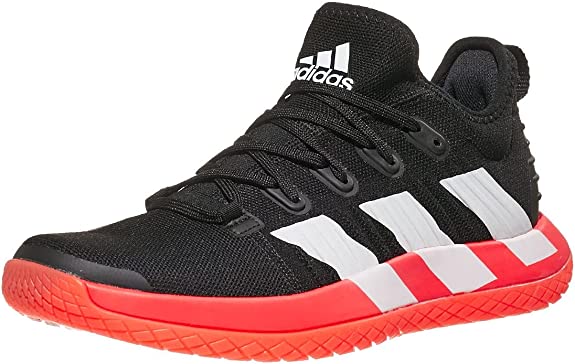 This is also a shoe that was made specifically for volleyball, though we've personally tested this shoe for squash and it's held up fantastically well. We love how high the shoe comes up our ankle – it feels secure and provides lots of protection against turning an ankle.
Though their bulky design might not be to everyone's tastes, these are probably the best squash shoes on the market for people seeking a little extra ankle support. Its stand-out 'inner cage' molding is designed for total stability when rushing around sports courts, and with Adidas's own "boost" technology in the soles, you'd be hard-pressed to find a better shoe that offers total comfort after months of regular use!
Though Asics Gel Renmas are designed for pickleball, these are quite likely the best squash shoes for your knees. They have Asics' Forefoot GEL technology which helps to increase impact absorption during abrupt landings – perfect for folks who need a lot of knee support!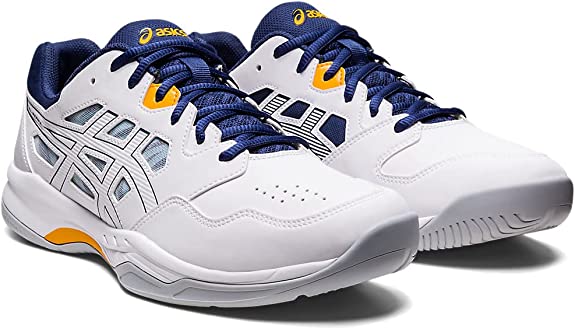 We personally tried these shoes and found them to be some of the most comfortable and forgiving squash shoes out there on the market today.
They'll feel great and provide excellent grip on the court right out of the box, with a close, but not tight, feeling around your foot. They also have a lot of cushioning for an indoor shoe, which might feel a little heavy and high-up compared to what you're used to, but works wonders for absorbing impact during high-intensity sessions!
If your feet are a little on the large size, then we don't have to tell you how tough it can be to find a sports shoe with a comfortable fit. If this sounds familiar, we recommend going for the Salming Men's Kobra 3s.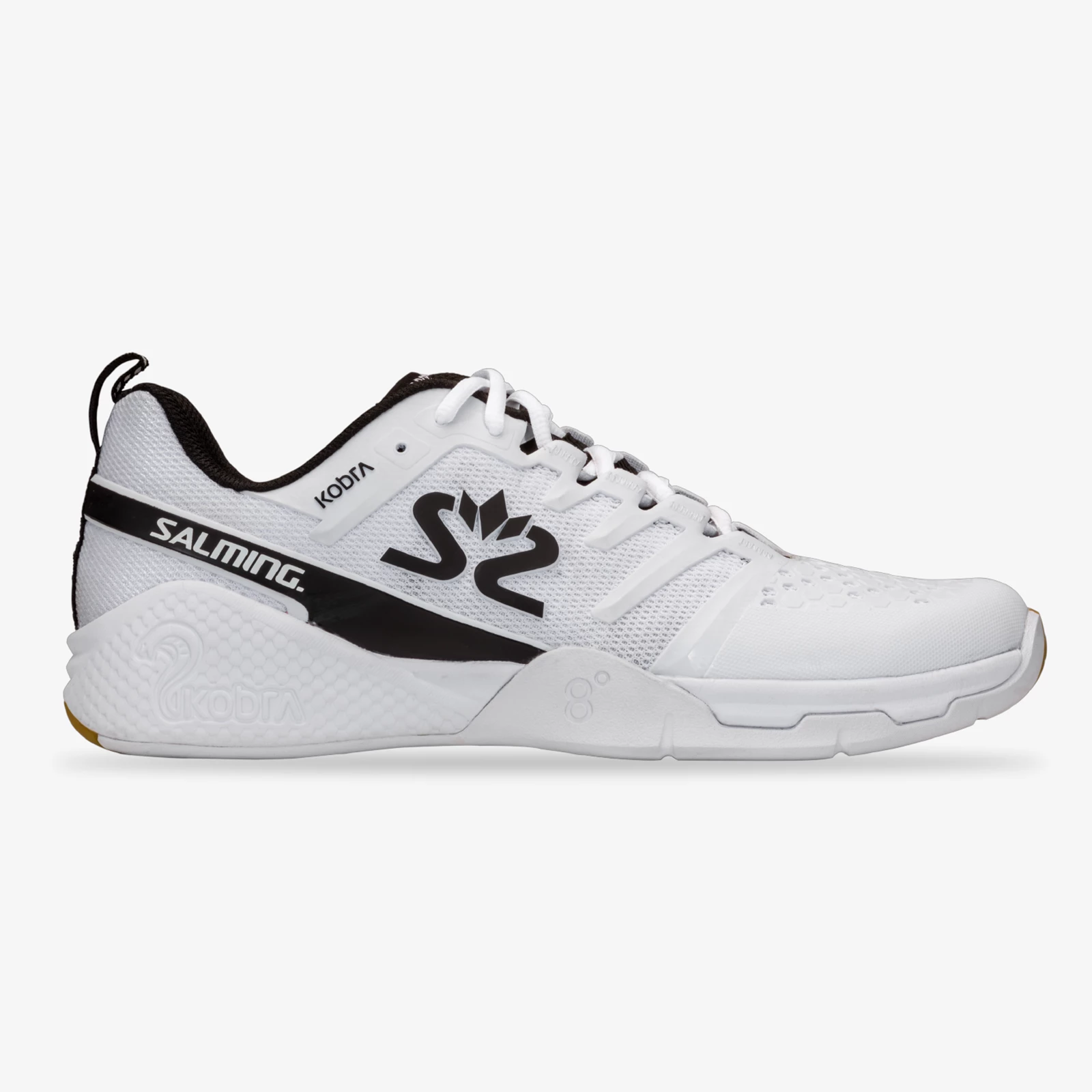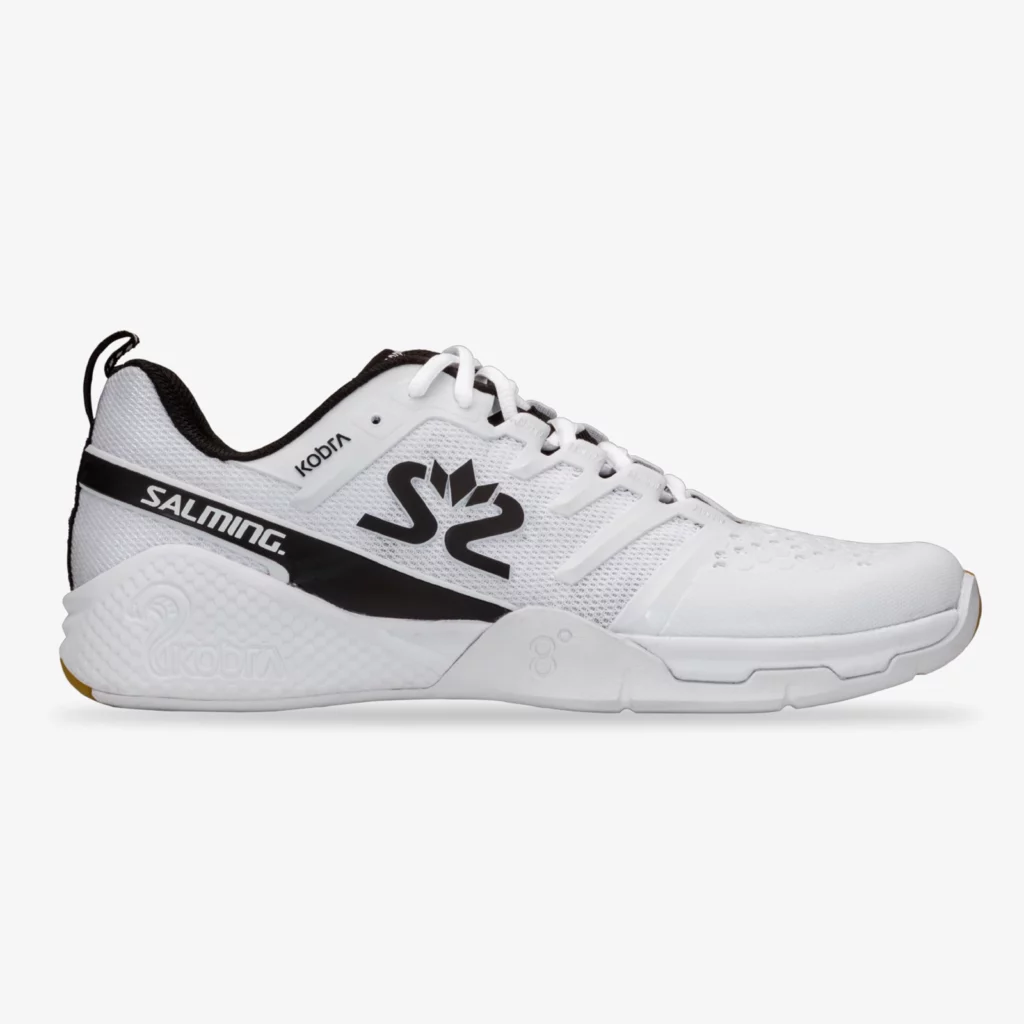 Though they may carry a lesser-known 'budget' brand name to outsiders, Salming is the premier shoe brand within the squash community. They are one of the only shoe manufacturers to make squash-specific shoes.
Kobra 3s come up time and time again in popular squash forums as the best shoe for players with wide feet. They'll also offer plenty of grip, cushioning, and support to boot. Thanks to the company's own Recoil™ ERF (Energy Return Foam) midsoles with lightweight cushioning, you'll notice a higher rebound from the first use, giving you a little extra spring when you're rushing to return tough serves.
If you're a casual or beginner squash player and you're not ready to spend a small fortune on your next pair of squash shoes, then Asics Gel Rocket 10s are the best squash shoes for players on a budget.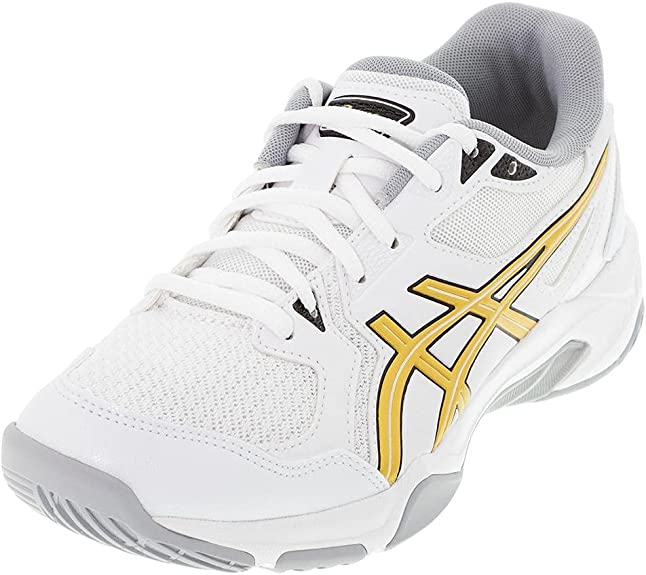 Another no-frills all-rounder, the Asics Gel Rocket 10s will give you everything you need from a squash shoe; support, durability, and comfort. Though they don't have any reactive foam bases and the visual design is a little dated, the functionality for the price (generally around $70) will more than make up for it! 
Some players who use these say they feel rigid for the first session, but once they're worn in, they're sure to be a faithful companion for all your games.
Best Squash Shoes for Flat Feet
Best Squash Shoes for Plantar Fasciitis
FAQ's:
Are Squash Shoes Worth it?
Yes, in our opinion having dedicated squash shoes is definitely worth the money. Almost all decent courts will require that you use non-marking soles when playing so you don't get black marks all over the court. Because of this, you don't want to be wearing any old running shoes while playing squash! Plus, having dedicated shoes that are made for squash or indoor volleyball will provide better ankle and knee support than general-purpose training shoes.
How Tight Should Squash Shoes Be?
You should tighten your squash shoes as much as possible without them feeling uncomfortable or causing you pain. One of the main causes of injury while playing squash are shoes that are either too loose or too tight.
Can You Use Basketball Shoes for Squash?
While you *can* use basketball shoes when starting out, we don't recommend using them long term. Basketball shoes are a decent starter shoe because they have non-marking soles and are made for quick movements and cuts. That said, basketball shoes tend to be much thicker and heavier than shoes that are made for squash or indoor volleyball. Because of this, once you get past the absolute beginner levels of squash, you'll probably want to upgrade!
Can You Use Volleyball Shoes for Squash?
Yes! Most shoe brands sadly make only indoor volleyball shoes and then market them for squash players. Salming and a few other brands are among the few that make squash-specific shoes. Long story short – indoor volleyball shoes are totally fine to use for squash.
Can You Use Tennis Shoes for Squash? What are the differences between squash shoes and tennis shoes?
Yes, as long as the tennis shoes you're planning to use haven't been used outdoors. In many cold-weather climates, people will have indoor and outdoor tennis shoes. We'd say that your indoor tennis shoes are fair game for squash, but leave the outdoor tennis shoes at home. This is because outdoor tennis shoes will have soles that leave marks everywhere.
Can You Use Squash Shoes for Running?
Can You Use Badminton Shoes for Squash?
What Squash Shoes Do the Pros Wear?